3-day Wholeness Training
Deepen your experience of the Wholeness Methods
The 3-Day Wholeness Training
Deepen your experience of the Wholeness Methods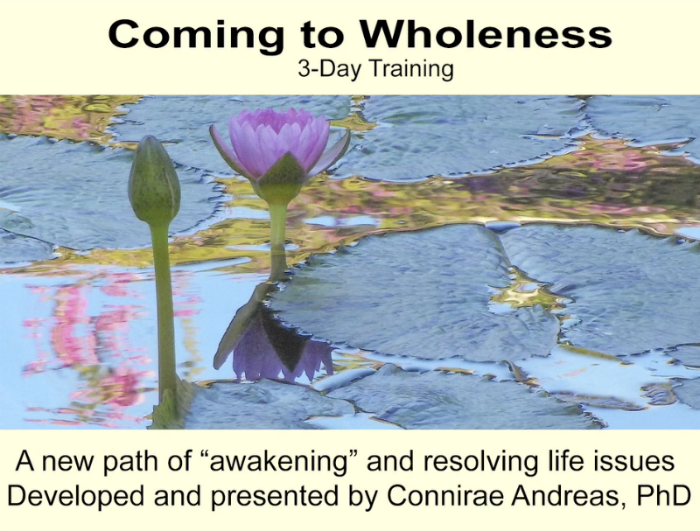 3-Day Wholeness Training on Streaming Video
Developed by Connirae Andreas
The 3-Day Wholeness Training is a great addition to your Wholeness learning library, and can deepen your experience with the processes.
(If you're new to the Wholeness Work, we recommend that you start with the 2-Day Wholeness Video Training.)
After one Wholeness training, many people experience profound benefits in their life. Yet there is still so much to be learned, as the Wholeness Work is simple yet rich with subtlety. One training simply isn't enough to fully understand it.
Whether you apply the Wholeness Work to your own growth or in your work with others, most people benefit greatly from attending the training two — or even three — times. With more training, you are more likely to fully understand, both mentally and viscerally, the nuance and depth of what is being taught.
What's included in this program:
1. More Content: all of the Day 3 methods, including...
The Life Journey: a group guided process.
Coping Mechanisms: discover your "primary coping strategy" and how Wholeness Work can help you transform and integrate this.
Identities and Roles: transform difficult life roles, and more fully live our positive life roles.
The "Letting Go" Process: release health issues, anxiety, and more.
2. A second example of Days 1 & 2 material.
Each training unfolds differently. Connirae emphasizes various Wholeness principles in response to the particular needs of the audience. Demonstrations provide invaluable modeling for how to translate the steps of the Wholeness Process to fit the individual. And each demonstration resonates with different aspects of ourselves, leading to greater understanding and deeper transformation with the work.
3. New Insights!
Connirae demonstrates her current teaching format for the "Basic Process with an Issue," and explains why this format creates stronger changes more quickly. New insights are added to the material on "Reclaiming Inner Authority," plus you'll find new insights about how to use the various Wholeness methods together.
By adding the 3-Day Training to your Wholeness Process learning library, you will enrich your understanding and ability to use the basic Wholeness material with yourself and with others.
For most people, it works best to experience one Wholeness training, either on-line or in person, apply the material with yourself and/or with others, and then attend or observe a second training to enrich your experience.
Each time you experience a Wholeness Process training, different themes and issues emerge, and you'll have the opportunity to experience how Connirae responds to various questions, obstacles and concerns.
Note about Context
This 3-day Wholeness training began a few days after the 2016 U.S. presidential election, and for quite a few participants this left an emotional impact. During personal introductions at the beginning of the training, many participants spoke of wanting to address their own anxiety and unsettled internal states as they explored the material.
While these introductions have been deleted out of respect for privacy, note that this is the context within which Connirae opens the Extended Training, with useful framing to address to this "elephant in the room."
Ready to deepen your Wholeness Process?
Life continues to become easier and more effortless when you learn these methods.
Lifetime access to over 9 hours of video.
Just log in and watch the streaming video, whenever you want and as often as you want.
Investment: Only $195!
Your Instructor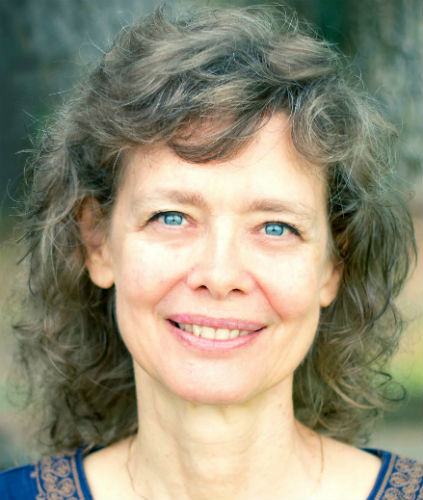 Connirae Andreas, PhD, is one of the first NLP Trainers. She is most well-known for her groundbreaking work developing the Core Transformation Process, a method through which our limitations easily become a doorway to a felt experience many describe as our spiritual core. This inner core offers the deep healing that resolves many of life's problems and challenges. Her work has been published in over 14 languages, and is taught through a network of trainers around the world. Visit CoreTransformation.org to learn more about this simple yet profound method.
Connirae's most recent work, the Wholeness Work, is the result of her personal struggle with health issues, plus an exploration of modeling what has usually been considered "the unknowable." The result is a simple and highly effective of therapy and personal growth. Plus an easy-to-do form of meditation. It gives us a specific way to notice and dissolve what we might call the "every-day sense of the ego", and the results are deeply healing to the mind-body system. The process is grounded in direct experience, so no spiritual beliefs or interests are needed to benefit.